The Best Company on the Planet
---
At Competitive Pest Control, we are always trying to raise the standard for service. When people think of great customer service, the pest control industry is not what springs to mind. And we love this. It means that as a result of setting a high standard for service, we get noticed. Noticed by our customers, their friends and family, and by business in general.
COMPETITIVE PEST SERVICES
We were the first pest control company in Australia to offer a 200% money-back guarantee. That's a fact. It was this guarantee that assured us Finalist status in the Telstra Business Awards. We made a decision five years ago to be the very best pest control company on the planet, and that is where our 100% money-back guarantee began. We decided to employ not just the smartest, but also the friendliest technicians in the industry (we didn't always get it right in the past, but we believe we now have our recruitment process down to a fine art!). We made a decision to use the best products in the industry, and offer the best guarantees and warranties. We made a decision to offer the best possible working environment for our team. And we made a decision to offer the most competitive prices in the industry.
If you ever get a chance to visit our offices, you will notice big gold letters along one wall stating "The Best Company on the Planet". We want to have the best company on the planet for our team, and our customers. Whether you experience our pest control service in Sydney, Brisbane, or the Gold Coast, all of us share the ethos of exceptional customer service.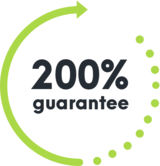 WE'RE NOT HAPPY UNLESS YOU'RE HAPPY
SEE HOW IT WORKS
With Competitive Pest Control Services you'll never have to worry about paying for a job that hasn't been done.

If you're not satisfied with our services, we'll not only give you your money back, we'll return it to you twofold. That's right: you'll not only receive a full refund, we'll also pay to have your pest problem sorted by our competition.*

We're always trying to raise the standard of service, it's one of the reasons we were name Australian Pest Manager of the Year four times in the past six years. When you employ our services, you know your pest problem will soon be a distant memory. What could be more satisfying than that?

*Please contact us to hear more about our 200% Money Back Guarantee - as due to issues sometimes outside our control, not all services may be covered by this offer.
Talk to us about pest control for your home or business