Bedbugs Riding The Bus In Philadelphia
---
A photo has surfaced on social media of bedbugs coming out of a bus seat seam on a bus in Philadelphia and quickly went viral. The picture drew attention to a problem that no city department wants. Both the Licenses and Inspection and Health Departments say they are not responsible for bedbugs. But last year the city created a Bed Bug Task Force.
Spokesperson Jerri Williams said the photo prompted bus company SEPTA to pull some buses from the service on Route 6 that runs to Ogontz and Cheltenham Avenues from the Olney Transportation Center to clean, vacuum and freeze. "I hope this incident proves we don't want them on our bus," Williams said. "If you tell us, we will pull that bus and we will have that treated immediately."
Commuters perceptions that the fabric on seats is unclean has prompted the department to phase out fabric seats on install moulded plastic seats. Septa has 550 new buses on order that will all have the plastic seats and plastic seats have been installed in subway cars as they are pulled in for a service even though SEPTA didn't identify the insects in the photo, they assumed they were bedbugs when they could have been other things, such as carpet beetles or cockroach nymphs.
Michelle Niedermeier, a member of Pennsylvania State University's Integrated Pest Management and chair of the task force said that no one knows how serious a problem the city may have. A study found about 11 percent of homes had bedbugs, but it only surveyed part of South Philadelphia. "No one is in charge of bedbugs, no one," said Niedermeier.
Read More: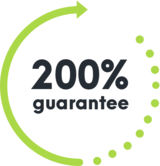 WE'RE NOT HAPPY UNLESS YOU'RE HAPPY
SEE HOW IT WORKS
With Competitive Pest Control Services you'll never have to worry about paying for a job that hasn't been done.

If you're not satisfied with our services, we'll not only give you your money back, we'll return it to you twofold. That's right: you'll not only receive a full refund, we'll also pay to have your pest problem sorted by our competition.*

We're always trying to raise the standard of service, it's one of the reasons we were name Australian Pest Manager of the Year four times in the past six years. When you employ our services, you know your pest problem will soon be a distant memory. What could be more satisfying than that?

*Please contact us to hear more about our 200% Money Back Guarantee - as due to issues sometimes outside our control, not all services may be covered by this offer.
Talk to us about pest control for your home or business