Charity Work Isn't Pesky
---
If you really want to make a marked improvement in someone else's life, you need organization and consistency.
Some businesses interpret that as quarterly CSR activities, charity marathons, or non-governmental foundation departments. We have nothing against that; we just have a different approach. We like to deal with our charity work one-on-one so that we can see the real effect we're having on their everyday lives and shift strategy as needed.
One Child One Tech
Our area of speciality is pest control, northern beaches (and pretty much anywhere else in Australia.) The reason we're so good at it is that we hire residential pest control Sydney from all over Australia; then we provide them with monthly training and access to the latest in pest control methodology. And every time we hire a new technician, we recruit a new Cambodian child into our sponsorship programme.
We don't pick random kids from the streets. This can seem like a kind gesture but is often worse for children who have been sent out to beg by their parents and guardians. Your few coins or that meal you bought will make you feel good about yourself, but it only encourages the kid's 'responsible' adult to send them 'back to work'. After all, this kid's successful begging proves that the strategy is working, no?
Cambodia Children's Fund
We prefer to work with CCF, a reliable, recognised foundation that takes a long-term approach to helping these kids. CCF ensures that the children are educated, their home life is improved, their living circumstances are developed, and even their neighbourhoods are spruced up – socially, culturally, economically, and above all, practically.
We follow up with these kids on an individual level, monitoring their progress as human beings. This is important because we can see if our attempts to help are going wrong, so we can reassess and try something different. So far, we have raised $65,000 and counting. You might wonder why we chose Cambodia.
Why Cambodia in particular?
Our MD – Gary Journeaux – was travelling in the country back in 2012. He had gone on a volunteer trip with Tabitha Foundation, basically building houses for disadvantaged families. CPS had been donating to them for a while, so he figured a three-week hands-on trip was a good idea. While there, he heard about New Hope, an orphanage for kids with HIV.
He decided to stay a week longer, working with these kids, and ended up in a different kids' home led by Scott Neeson, a fellow Aussie. From there, the chain grew, as there were always more kids to help. Gary got connected to CCF and established a more structured partnership between them and CPS (that's us). And you can join in too.
For more information on our charity work, or to find professional, environmentally friendly pest control, call Competitive Pest Control today on 1300 395 769.
Read More: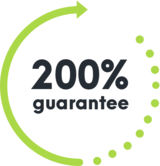 WE'RE NOT HAPPY UNLESS YOU'RE HAPPY
SEE HOW IT WORKS
With Competitive Pest Control Services you'll never have to worry about paying for a job that hasn't been done.

If you're not satisfied with our services, we'll not only give you your money back, we'll return it to you twofold. That's right: you'll not only receive a full refund, we'll also pay to have your pest problem sorted by our competition.*

We're always trying to raise the standard of service, it's one of the reasons we were name Australian Pest Manager of the Year four times in the past six years. When you employ our services, you know your pest problem will soon be a distant memory. What could be more satisfying than that?

*Please contact us to hear more about our 200% Money Back Guarantee - as due to issues sometimes outside our control, not all services may be covered by this offer.
Talk to us about pest control for your home or business