Successful Pest Control Is All in the Strategy
---
When you discover that you have a pest infestation, your first thought is probably to grab a big spray can or set up some traps. It seems like a logical choice. However, while it may get rid of the immediate problem, it's not an effective solution. You might have noticed that – for example – your home-grown method of cockroach pest control in Sydney is less than adequate.
EXAMINING THE COMPONENTS OF A SUCCESSFUL PEST CONTROL STRATEGY
Sometimes, after you spray the roaches, they get up and walk away, because they have become immune to regular pesticides. And while getting a stronger spray may seem to help, that harsher chemical can affect your health, your pets, your kids, or your food supply. A smarter idea is to call in the experts. Here at CPS, we approach residential and commercial pest control with a carefully tailored strategy that keeps pests away for good.
Inspection
We'll start by investigating your home or office. You may have seen a few signs of infestation, but you probably don't know the severity of the problem. Even if you do, there may be other factors. For example, it may be a specific breed of spider or termite, which need particular pesticides. Or your pest might be a protected species that needs to be controlled without necessarily exterminating it.
Treatment
Once we know what we're dealing with, we will tailor a treatment plan for you. Our pest solutions are never one-size-fits-all. We design something targeted for your situation, whether it's the size of your home, the location of your office, or the immensity of your infestation. For example, a bedbug issue at a boarding school needs a different approach from one at a hotel or campsite. Our treatment plan will include a detailed budget with no hidden costs that we will present to you before we get anything started.
Protection
Of course, pests can get pretty cosy in your space, adapting it to their standards. That means you might get rid of one set of pests, but now that your house or office is an ideal habitat, a new set of pests may just come and take their place. For this reason, there are two levels of protection. One is to guard your space against future infestation by making it unsuitable for pests. The second level is protection for the pests themselves. Certain bush creatures, like possums, some birds are protected species, so it's illegal to kill or move them. In such cases, we develop a plan to get them out of your home or office without harming them or contravening environmental regulations.
Prevention
Finally, we ensure that the infestation is unlikely to recur. We can offer tips that will prevent future pest attacks, and sometimes, our service includes future inspections and 'top-ups' to make sure the pests that we chased away stay away. This can be helpful because our team includes field biologists and our technicians receive monthly training on the latest pest control methods. So, whenever new practices are discovered, we can apply them to your home or office during follow-up visits, keeping your facility or home pest-free indefinitely.
For a guaranteed pest control strategy and child-safe, pet-safe environmentally friendly pesticides, call CPS today on 1300 395 769.
Read More: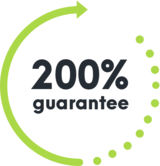 WE'RE NOT HAPPY UNLESS YOU'RE HAPPY
SEE HOW IT WORKS
With Competitive Pest Control Services you'll never have to worry about paying for a job that hasn't been done.

If you're not satisfied with our services, we'll not only give you your money back, we'll return it to you twofold. That's right: you'll not only receive a full refund, we'll also pay to have your pest problem sorted by our competition.*

We're always trying to raise the standard of service, it's one of the reasons we were name Australian Pest Manager of the Year four times in the past six years. When you employ our services, you know your pest problem will soon be a distant memory. What could be more satisfying than that?

*Please contact us to hear more about our 200% Money Back Guarantee - as due to issues sometimes outside our control, not all services may be covered by this offer.
Talk to us about pest control for your home or business