UPDATE: Termite Damage in Australia
---
TERMITES in Australia
According to a report from Archicentre by the Australian Institute of Architects, the annual damage bill to homes from termite damage was about $1billion 6 years ago, and believed to have been pushed up to around $1.5 billion this year. Another significant cost is the loss of resale value – during a mandatory timber pest inspection when a purchase is being financed, if termites or old termite damage is discovered, potential buyers will either walk away or offer thousands less.
The most damaging termites are the subterranean termites that live and nest in soil and almost always come from the soil to get into our buildings. 99% of termite damage is the result of a couple of species of Coptotermes (Coptos), a couple of species of Schedorhinotermes (Schedos) and Mastotermes (Mastos). Geographically, the Mastos are mainly found north of the Tropic of Capricorn (Rockhampton to Port Hedland), but the Coptos and Schedos are found all throughout Australia except for Tasmania.
The only part of mainland Australia that is rated by the CSIRO as Low to Very Low risk for termite attack is the narrow strip along the Great Ocean Road west of Melbourne. Therefore, the rest of Australia is in Moderate to High to Very High risk areas. There is a better than 80% chance that your home is within 25 metres of a termite colony. In a recent CSIRO survey, it showed that 32% of homes had a termite presence, which has been confirmed by the Institute of Australian Architects, whose survey proved that one third of all the homes inspected prior to sale last year had some sort of termite damage.
Less than 20% of homes are inspected or serviced by the professional pest control industry. Which means that more than 80% of us are blithely believing that "it won't happen to me". If 1 in 3 homes are damaged and yours is one of the other 2… should you make a little effort and spend just a few dollars to keep it that way?
Read More: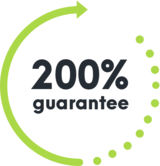 WE'RE NOT HAPPY UNLESS YOU'RE HAPPY
SEE HOW IT WORKS
With Competitive Pest Control Services you'll never have to worry about paying for a job that hasn't been done.

If you're not satisfied with our services, we'll not only give you your money back, we'll return it to you twofold. That's right: you'll not only receive a full refund, we'll also pay to have your pest problem sorted by our competition.*

We're always trying to raise the standard of service, it's one of the reasons we were name Australian Pest Manager of the Year four times in the past six years. When you employ our services, you know your pest problem will soon be a distant memory. What could be more satisfying than that?

*Please contact us to hear more about our 200% Money Back Guarantee - as due to issues sometimes outside our control, not all services may be covered by this offer.
Talk to us about pest control for your home or business